Elmar Haker
This user hasn't shared any profile information
Posts by Elmar Haker
How do you find the talents? It's one of the most asked questions people ask me about the project. It's always different and that's what makes it so interesting. My time in Kashmir was definitely different… I arrived in the middle of Ramadan and celebrated AID (the end of it) with the local sufi-muslims. It turned out to be a very welcoming and open atmosphere in one of the most disputed areas of the world. Since I had seen Kashmir-shops all over India, I was anxious to see where these products came from. Especially the Kashmir shawls drew my attention. Since everybody I talked to seemed to be of the male-gender, I decided to search for a women's group. Surely this wouldn't be too hard?
A full week I stayed in Shrinagar, asking anyone that would listen where I could find a group of independent women that make Kashmir shawls. Nobody knew. Or if they knew and enthusiastically told me 'sure, no problem!', the shrewd Kashmiri businessmen would follow that sentence with a 'so what will you pay me for that information?'. Youssef, owner of my regular restaurant, shook his head sympathetically each time he saw me coming back empty handed. Eventually one day he came up to me and told me for Allah's sake to go to the local television studio. 'They are educated people, there they will help you.' Figuring I didn't really have any alternatives, I decided to follow his advice.
My first attempt to get in failed miserably ('no sir, security problem sir'). Being Kashmir's voice to the world, the television station (Durdarshan), is one of the most guarded and well-defended buildings in India. The next day however, I met a more willing attendant and after some phone calls, some questions and a lot of waiting I could go through the multiple military check posts to visit the head of operations personally. I was pleased to see that the Durdarshan director turned out to be a woman. She immediately decided to help me and pulled some strings to find me my women's group. In fact, she liked the idea so much, that she decided to make an item of it herself and consequently sent a whole television crew with me! Deep into the Kashmiri valley of paradise I eventually found what I was looking for: an independent women's group making Kashmir shawls: Wani's self-help group!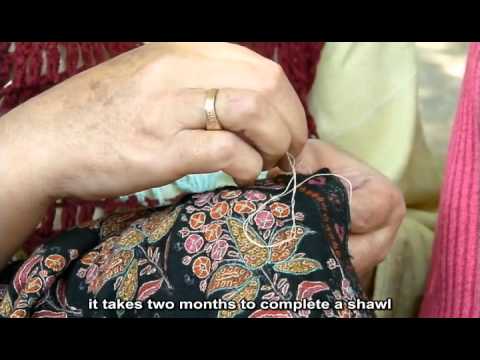 The Sufyana music performed in the video was done by Mohammed Yaqoob Sheikh & Party. Their group is a well known performer of Sufyana music and is one of the only professional groups in Kashmir that consists mostly of women (albeit, being led by a man). Like with the women's self help group, the Durdarshan director also assisted in arranging this music-performance in her studio.
To get in contact with Wani might be challenging. None in her group speaks English. If interested however, the contact details of the government official that helped funding their group are available by contacting the GTP. The same goes for Mohammed Yaqoob!
The Punjab always had a mysterious ring to it and when I went there to visit its most mystical attraction in Amritsar I was not disappointed. This is the land predominated by the Sikh, just as mystical to me as any other planet in Star Wars. My first encounter with a particularly large Sikh had been in the hills around Dharamsala. I had just dodged two evil-looking monkeys and must have smiled a little too happy, because for some reason the passing Sikh decided to embrace me in a deadlock, lifting me of the ground like I was a kids' doll and swirled me around until he had me screaming for mercy. 'WELCOME TO INDIAHHHHH!!' He exclaimed and nearly floored me when he affectionately patted me on the back. I said it was nice to meet him and would subsequently dodge any turban in the area for the next week. It turned out the greeting of my new-made friend in Dharamsala had been exceptionally firm and the equally friendly people in Amritsar would limit their sign of affections to a mere handshake.
During my visit, Kps Gill explained to me that he believes all people are the same. Visiting the open-to-everybody golden temple I got the feeling that this welcoming attitude is shared throughout the Punjab. Still, one could say that Kps Gill is different from the people around him. He is successful in his job as a team leader in retail at the biggest 'hypercity' mall in Amritsar, but after practicing his painting-hobby for 10 years, he decided to give 'talent' a shot. And, judging from his paintings he already had made, why not? His first exhibition starts today (25 October 2011) in the S. G. Thakar Singh art gallery in Amritsar!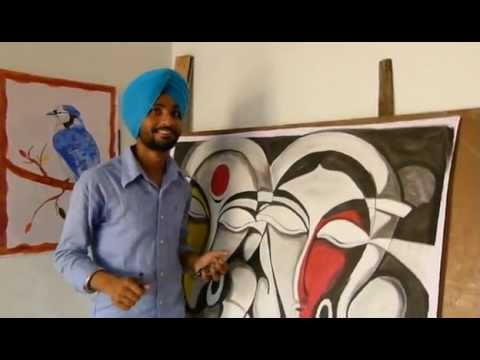 The song played by The Malangi's is a typical Punjabi Jugni. Full version here!
The music is from The Malangi's. A band that combines the traditional lyrics with a more Western tune. They are now still studying software engenering, but with multiple new songs and invitations to start recording a CD, it seems just a matter of time before they brake out of the Punjab in the land of fame and fortune. The recordings I made when I spent an afternoon with them on the country side will follow shortly!
It wasn't easy getting into Ladakh in the North of India. First I tried my luck on the infamous Manali-Leh road. But crossing the himalaya's in the rain, dodging landslides, didn't really seem appealing. Especially when in the days that I tried one bus and two shuttles went down causing 24 deaths. It took me almost a month to finally get there via the alternative Kashmir-Ladakh road, but the reward was astaunishing. I arrived in Leh right in the middle of its annual festival and was pleasantly surprised by its grandeur. Ladakh is as close to Tibet (culturally, spiritually and physically) as it gets and driving through the area, one does not have to think hard to determine its dominant religion. My guidebook told me about Ladakh's history of women emancipation, so I figured it would not be too challenging to find talent of the female gender…
Dechen Dolma is a very special talent. Not only is she very gifted in making clay-sculptures, she chose to do it in spite of misgivings from her surroundings. Her world-famous teacher, master Nawang Tsering, created the Maitreya Buddha, amongst many others and considers Dechen one of his most talented students.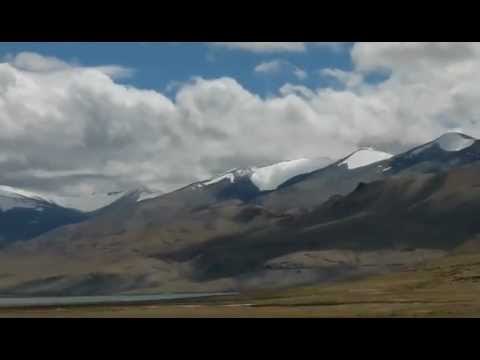 The song played in the video is roughly translated in 'the talent-song'. The full version can be found here.
Unfortunately, the magnificence of Ladakh is not visible for everybody. Searching for talented musicians, I stumbled upon Thukjey Dolma (not related to Dechen). Thukjey was born blind in one of the most beautiful places on earth. She is a very bright spirit nonetheless and her positive energy brought me to visit a very interesting school, Secmol, on which she teaches music. After she sang on the local radio, her star rose in Leh and when I met her in a local restaurant, the Indian phone-camera's for once where not pointed at me, but at my blind companion! Rohan Dhar, a volunteer at the Secmol school, kindly accompanied Dechen in this performance.
Both Dechen as Thukjey can be contacted when you find yourself in Leh.
Elmar Haker's RSS Feed