Baron Neal – Butterfly artist
Name: Baron Neal | Born: 1989 | Nationality: Belizean | Location: Santa Elena, Cayo District, Belize
Making art from butterfly's that died of natural cause is not something that would pop up firstly when thinking of Belize. However, when seeing the next video you might think twice. Baron Neal does not let these beautiful creatures go to waste and proves that creative talent can be used in a very interesting and sustainable way.
Baron learned making the artwork from his brother, whom he considers the mastermind of the butterfly art. Baron developed his own typical (detailed) style however and by practice from around 2006 to now, he got more experienced then his brother. his brother nowadays focuses more on being a tour guide in Chaa Creek Butterfly farm.
For Baron, butterfly art is not only something he really likes doing. It is an essential element to make a living. With the money that he earns he can support his family and pay for his studies, Business Administration in Belmopan. "Life in Santa Elena is tough", he says "it's hard to try and get somewhere in life here, as 'being successful' is not always something that is looked upon well". Baron is one of the few in Santa Elena that is in the process of getting an education. Crime rate is extremely high in this part of Central America and Baron has already lost some of his friends because of it (either killed or in prison). By making butterfly art he tries to escape from a world of crime. He wants to put his education to use in his own butterfly-business and dreams of owning his own butterfly garden once.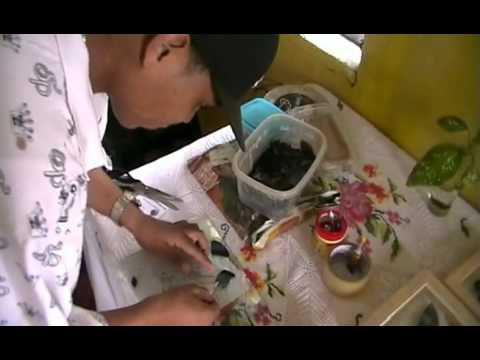 Next to the Morpho butterfly, which Baron collects in the Chaa Creek Butterfly farm, he also collects different colourful butterflies from Trek Stop. Sometimes he will use feathers or leaves to improve his artwork. The glass is cut in a local shop and a friend prepares the wooden frame around his work.
Currently, Baron has about 8 customers that have big shops where his work is sold. Whenever they sell a piece of his, they will normally order a new one. Baron is also invited every year to present his work at the US embassy around thanksgiving in November. Per month he makes an average of 6 artworks which normally take about 4 months to sell.
Some other examples of Baron's work will follow shortly…
Prices depend on the amount of work, but for the shown pieces, it will mostly range between 100 BD (50 USD /  € 37,81) and 400 BD (200 USD/ € 151,26). This includes shipping and handling.
Available for purchase NOW via the blog (first come first served and only customers in Holland for the time being). Those who came too late, live in a different country or want to order a different piece can Contact Baron Neal by using the subject 'Baron Neal'. If customers have specific wishes for their butterfly art, he is confident that he can make it.