Posts tagged
abstract
'It takes a crane to build a crane'… (Jason Mraz in his song: 'Life is wonderful') Life certainly is wonderful in Nepal, or at least: if you know where to look! Madan Shrestha knows this very well and has both a talented eye as a talented hand when it comes to painting the moments of life that make Nepal such a unique country. Being only 22 (1989), Madan is a remarkable talent. He is part of a group of upcoming artists, schooled in the school of arts in Kathmandu. In Madan Shrestha's case, it takes an artist to make an artist. Not only did he become passionate about art because of his teacher when he was a little boy, he now also shares this passion with the vast amount of children that he teaches in school.
When I met Madan, he had just finished a very successful first solo-exhibition in Kathmandu called 'moment of life'. I couldn't wish for a better moment to help Madan with more digital promotion. It should be noted that Madan considers himself to be in the experimental faze of his painting-career and that he will experiment further with different styles and materials. One thing is very clear however. Madan is very much inspired by everyday life in Nepal and how it relates to Nepalese natural beauty. I, for one, am very interested in where his creative career will lead him. For the Global Talent Project (and because my knowledge of the Nepales language is limited to 'namaste'), Madan bravely talked with me in English.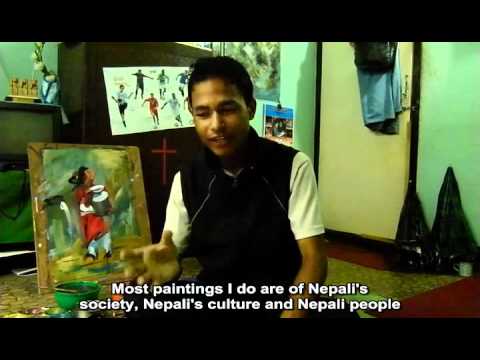 Music by Kutumba, a very popular Nepalese band, that I had the fortune to visit when they where practising. The full version of the music in this video can be found here.
Madan's art has mostly been sold, so this time it will not be possible to buy his art via the GTP. If you are interested in contacting him however, you can contact the GTP for his details. More photo's of his work here.
They say San Pedro La Laguna breaths art. I went to check it out and found that it does! This time it was difficult to choose an artist to promote. All over this village there are numerous artists whose main inspiration seems to be the volcano's and the lake. Although beautiful as well, I went looking for a somewhat different style and found it by coincidence, just around the corner of my hostel.
Domingo Yojcom Coche was just busy decorating his garden, which I found by following a sign that read 'art-teacher'. One might say he's a multi-talent, because next to making his own paintings, he also teaches tourists how to do it. Next to this, he is currently combining painting with opening a bar and a small hostel: Casa Yojcom.
But all this didn't convince me to promote him. It was a combination of his character and the painting he was just working on. Take a look at the video and get an impression of the artist 'Yojcom'!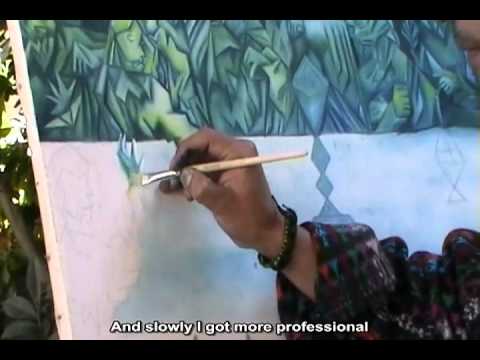 Unfortunately his latest work was just on display in a gallery in Guatemala city, so I can't offer anything directly via me. However, Domingo will send me photo's of more of his work next week and then it will be possible to order directly from him.
For customers via the GTP, Domingo's prices are around the following, excluding packing (€ 5,-) and sending costs (around € 20):
22,5 cm x 28 cm = 350q (43,75 USD | € 33,32)
20,5 cm x 51 cm = 450q (56,25 USD | € 42,84)
60 cm x 80,5 cm = 900q (112,50 USD | € 85,68)
60 cm x 86 cm = 1500q (187,50 USD | € 142,80)
115 cm x 130 cm = 1800q (225 USD | € 171,36)
Domingo can also make paintings on order. A small painting takes about one to two weeks to complete, the larger ones normally take about a month.
Domingo's web-page can be found at www.globaltradeproject.com/yojcom and as always: you can contact him directly by contacting me (subject 'yojcom').