Posts tagged
contemporary
Diwali is the festival of lights, India's most important holiday. Like any other festival, when the Indians celebrate, they mean business. Not only literally (on the first day of Diwali all businesses start their financial year), but mainly just by taking it into the extreme. Imagine a combination between Christmass and new years, multiply it by three and add India in the equation and you get what I found in Udaipur, the last city I visited in Rajasthan. Lighted plastick palmtrees, beard competitions, foodstalls, sweets and a lot of fireworks, all under a roof of glittering and gleaming decorations, makes the scene of Indian families visiting their relatives. Since I had no relatives in Udaipur, I decided to start searching for talent. As Udaipur is also known as one of the most romantic cities in India, my quest was aimed for creative expression with love as inspiration.
Meet Sharmila Rathore. There are a few galleries in Udaipur with nice art, but most of them sell more or less copies of the traditional miniature-paintings that you can find anywhere in Rajasthan. Sharmila's 'Art Issue' drew my attention because she makes a fusion between contemporary and traditional art. Next to that, she also has a noticeable style that seems to speak directly from the hart. Her paintings are inspirational, spiritual and what's more: the subject of many of her paintings… is love!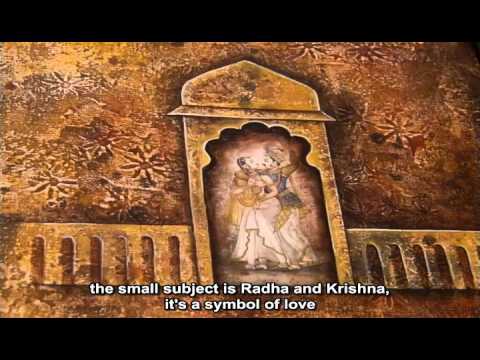 Music by Shariq Parvez, full version here.
It was the first day of Diwali when I took this video, but fortunately the firecracker war outside had reached some kind of temporary truce. Shariq Parvez, the musician in this video, finds that a temporary truce is sometimes difficult to negotiate when you have two young kids roaming the house. 'And I do meditations!'. Fortunately we could make this recording in an unguarded moment at his home in Udaipur. Shariq gives meditation classes with his own made Meditation Guitar, a fusion between the slide guitar and the traditional Indian Sarod. Visit www.meditationguitar.in for more information. Contact the GTP to get in touch with Sharmila!
The first aftershock I felt was when driving the rental car through the battered streets around Christchurch's centre. The centre itself is still considered a 'red zone' and inaccessible, but the effects of the 22nd of February are visible all around the city. I considered it a personal mission to find talent even though art-centres are closed and many people, including artists, have sought a new place to live. After some research I found what I was looking for even closer to the epic centre. Ruth Killoran only recently started working as an artist, but her talent is unquestionable. Originally being from the UK (Liverpool), Ruth started her work 5 years ago on arrival in New Zealand. Her stone-carvings where always prepared by drawings, which inspired her to extend her creative expressions on paper as well. The result is impressive. Ruth was lucky not to suffer more than material damage, but the quakes obviously are cause for a lot of stress and a decrease in income. I thus hope that this video and the photo's will be cause for some renewed interest in this 'light-weavers' extraordinary work!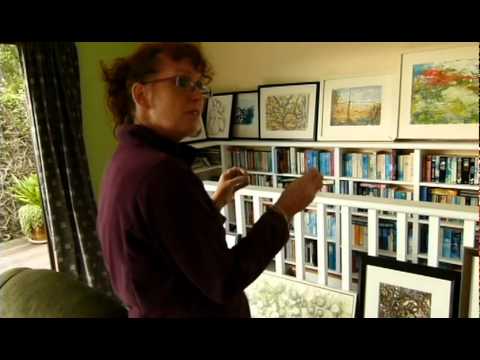 The musical performance was made in Te Whakarewarewa Thermal Valley in Rotorua on the Northern Island. See Te Puia for more!
Ruth cuts the stone-blocks out herself and has them for sale for other sculpturists. Her paint-artwork will be displayed on an exhibition shortly, so be quick! Reply to the newsletter or contact me for more details!
Below are the ones that are currently for sale (prices do not include shipping):
1. Voyage to the Islands 1250 NZD (1 NZD = € 0,57 = 0,81 USD) (SOLD)
2. 'Encroachment' – 65cm x 88cm framed, behind glass 875 NZD
3. Amongst The Chaos 750 NZD (SOLD)
4. 'River Valley' – 80cm x 100cm framed, behind glass 1800 NZD
5. 'Bird chorus' – 50cm x 65cm framed, behind glass  800 NZD
6. 'Feathervescent' – 50cm x 64cm framed, behind glass 900 NZD
7. 'Forest Melody' – 50cm x 65cm framed, behind glass 600 NZD
8. 'Autumn Feast' – 78cm x 64cm framed, behind glass 750 NZD
9. 'Bird Watch' – 65cm x 50cm framed, behind glass 500 NZD