Posts tagged
Guatemala
A new year, a new talent on the Global Trade Project! What color do you picture in your head when thinking of New Year? Mine is a combination of red, almost exactly the colors that are used by this next talented artist!
Josué Hernández lives in Quetzaltenango, Guatemala. Like Alvarado, he represents a new and upcoming generation of artists that are fast on their way to the top. With his typical different style, it's hard not to notice and recognise his paintings.
What makes Josué special? Well, I hope the video will convince you, but for me, it was just a first glimpse of one of his works that made me want to share this with you. In my search for talent I was passing by a handicraft shop with some of his paintings on the wall. I skipped the idea of featuring a total village around Xela (I hope someone else will do this in the future) and went straight for this special talent. Take a look!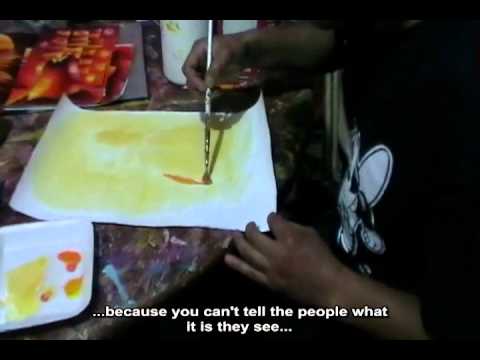 The material Josué uses is manta and canvas, texture and aquarel (watercolor). The paintings in his video are for sale. Below I added three paintings that also feature in the video. Prices are around 1800 quetzal (224,57 USD, € 168,24). This does not include shipping costs (normally around € 20,-). Take a closer look at the pictures below and contact me to get in contact with Josué Hernandez!
Happy New Year!
For Christmas I prepared something special. Unfortunately the restaurant in El Salvador where I had my Christmas-dinner did the same. Let's say I've never spent so much time in such a small compartment around this time of year before.
However, I'm feeling on the up again, and I would like to promote this special place in Quetzaltenango (Xela). Like my idea for launching this video, Utzil originally also started with the goal to make Christmas more special: with Christmas dolls. Slowly however, it evolved in something based more on the typical Guatemalan culture.
Now, 33 years later, we are welcomed in the workshop to see how Utzil keeps the typical Guatemalan cultural clothing alive forever by making beautiful handmade dolls.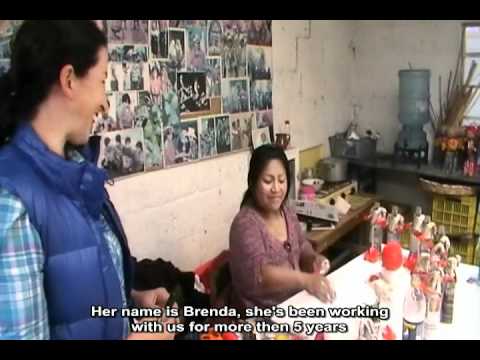 Utzil is not only special because of the typical dolls that are made there. When I was at the workshop, it felt like a tight group of people that take care of each other. Prices will follow shortly (as communication is difficult when gripping to the side of a toilet seat).
Update: you can now get in contact with Utzil directly via their new website! Check it out at www.creacionesutzil.com/
Merry Christmas!
They say San Pedro La Laguna breaths art. I went to check it out and found that it does! This time it was difficult to choose an artist to promote. All over this village there are numerous artists whose main inspiration seems to be the volcano's and the lake. Although beautiful as well, I went looking for a somewhat different style and found it by coincidence, just around the corner of my hostel.
Domingo Yojcom Coche was just busy decorating his garden, which I found by following a sign that read 'art-teacher'. One might say he's a multi-talent, because next to making his own paintings, he also teaches tourists how to do it. Next to this, he is currently combining painting with opening a bar and a small hostel: Casa Yojcom.
But all this didn't convince me to promote him. It was a combination of his character and the painting he was just working on. Take a look at the video and get an impression of the artist 'Yojcom'!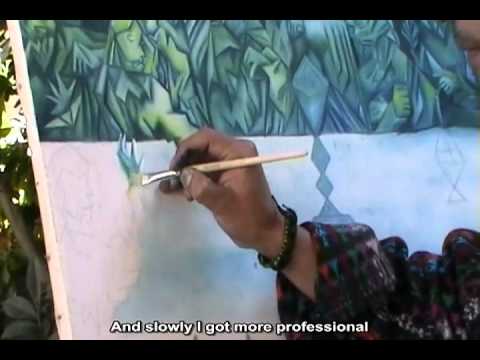 Unfortunately his latest work was just on display in a gallery in Guatemala city, so I can't offer anything directly via me. However, Domingo will send me photo's of more of his work next week and then it will be possible to order directly from him.
For customers via the GTP, Domingo's prices are around the following, excluding packing (€ 5,-) and sending costs (around € 20):
22,5 cm x 28 cm = 350q (43,75 USD | € 33,32)
20,5 cm x 51 cm = 450q (56,25 USD | € 42,84)
60 cm x 80,5 cm = 900q (112,50 USD | € 85,68)
60 cm x 86 cm = 1500q (187,50 USD | € 142,80)
115 cm x 130 cm = 1800q (225 USD | € 171,36)
Domingo can also make paintings on order. A small painting takes about one to two weeks to complete, the larger ones normally take about a month.
Domingo's web-page can be found at www.globaltradeproject.com/yojcom and as always: you can contact him directly by contacting me (subject 'yojcom').