Posts tagged
handmade
How do you find the talents? It's one of the most asked questions people ask me about the project. It's always different and that's what makes it so interesting. My time in Kashmir was definitely different… I arrived in the middle of Ramadan and celebrated AID (the end of it) with the local sufi-muslims. It turned out to be a very welcoming and open atmosphere in one of the most disputed areas of the world. Since I had seen Kashmir-shops all over India, I was anxious to see where these products came from. Especially the Kashmir shawls drew my attention. Since everybody I talked to seemed to be of the male-gender, I decided to search for a women's group. Surely this wouldn't be too hard?
A full week I stayed in Shrinagar, asking anyone that would listen where I could find a group of independent women that make Kashmir shawls. Nobody knew. Or if they knew and enthusiastically told me 'sure, no problem!', the shrewd Kashmiri businessmen would follow that sentence with a 'so what will you pay me for that information?'. Youssef, owner of my regular restaurant, shook his head sympathetically each time he saw me coming back empty handed. Eventually one day he came up to me and told me for Allah's sake to go to the local television studio. 'They are educated people, there they will help you.' Figuring I didn't really have any alternatives, I decided to follow his advice.
My first attempt to get in failed miserably ('no sir, security problem sir'). Being Kashmir's voice to the world, the television station (Durdarshan), is one of the most guarded and well-defended buildings in India. The next day however, I met a more willing attendant and after some phone calls, some questions and a lot of waiting I could go through the multiple military check posts to visit the head of operations personally. I was pleased to see that the Durdarshan director turned out to be a woman. She immediately decided to help me and pulled some strings to find me my women's group. In fact, she liked the idea so much, that she decided to make an item of it herself and consequently sent a whole television crew with me! Deep into the Kashmiri valley of paradise I eventually found what I was looking for: an independent women's group making Kashmir shawls: Wani's self-help group!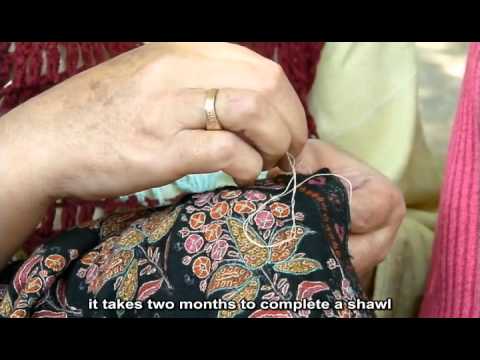 The Sufyana music performed in the video was done by Mohammed Yaqoob Sheikh & Party. Their group is a well known performer of Sufyana music and is one of the only professional groups in Kashmir that consists mostly of women (albeit, being led by a man). Like with the women's self help group, the Durdarshan director also assisted in arranging this music-performance in her studio.
To get in contact with Wani might be challenging. None in her group speaks English. If interested however, the contact details of the government official that helped funding their group are available by contacting the GTP. The same goes for Mohammed Yaqoob!
It has been a wild week. After Santa Marta I headed down to San Gil for my much needed shot of adrenaline: parasailing over the mountains, descending in deep valleys and repelling from a giant waterfall. Bogota proved to be a very friendly capital where everybody seemed to be happy to listen to my crappy Spanish and the night-life on Friday was spectacular. In my search for talent I did not dive into the creative world in these places however and focussed in stead on a little village in the coffee-region of Colombia: Salento. A shot in the rose! (as we say in Holland)
This time I stumbled upon an entire art-community with talent. Born from the ashes of the devastating earthquake in 1994 and aided by international funds, the government of this area decided to invest in their culture. And rightly so! Aldea del Artesano (or 'Villa de Flor') in Salento is an oasis of tranquillity with friendly inhabitants who live entirely of the natural and creative resources that are available. Because of this special concept I decided to make a video more of this place than of an individual. However, Janneth and Memo are great ambassadors of their community and create outstanding artwork that you can buy! (and if you happen to BE in Salento, they are happy to give workshops)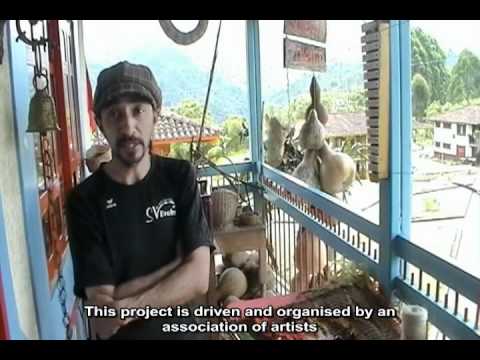 Music by Fabian Acevedo from Salento (song: El Negrito, Antonio Lauro)
Both Janneth's jewelry and Memo's natural lamps are on their way to Holland and available for purchase. See some of the photo's below.
Prices of the lamps: variable, between 40 and 50 dollar per piece excl tax and shipping (have to research full costs, just let me know if you consider buying one!)
Prices of the jewelry
I will start the price of the jewellery at the normal price:
1. Small kristal necklaces (5 available): € 1,93 | 2,64 USD | 5.000 pesos
2. flower necklace + earrings (1 available): € 9,26 | 24.000 pesos
3. Medium kristal necklaces (3 available):  € 3,09 | 8.000 pesos
4. kristal bracelets (3 available): € 5,40 | 14.000 pesos
5. Kristal cameleon (with paintings) (2 available): € 4,63 | 12.000 pesos
6. long-painted necklaces (collar vidreo): € 2,70 | 7.000 pesos
7. Stone-Kristal necklaces (2 available): € 3,09 | 8.000 pesos
8. Transparant 'Colar Vitran' (1 available): € 5,80 | 15.000 pesos
9. Light blue 'ball-onaring' (1 available): € 4,63 | 12.000 pesos
Right now I don't have my local dinner yet, but you can bid on any of these jewellery starting from the given price above. Best bid gets the piece (it can be picked up in Holland or brought to you via a creative way)! Auction-time: until it arrives in Holland in about a month or just if I say its yours.
Colombia still holds a lot of mysteries for me. My first day here was like I was back in high school and hadn't learned for an oral exam. The few people with whom I tried to speak Spanish snorted at me and turned away, leaving me utterly confused whether they got the question or that ignoring gringo's was a national sport. Fortunately, my luck has changed since than and even with the worst of Spanish I still get rather positive reactions from the locals. I decided to take it a step further and went looking for the Wayú indigenous people, which, according to my Lonely Planet 'have a fierce reputation' … 'there is a fierce pride here, a sense of otherness and resistance that pervades all interaction.'
Challenge! My search didn't go smoothly however, as you can see in the video…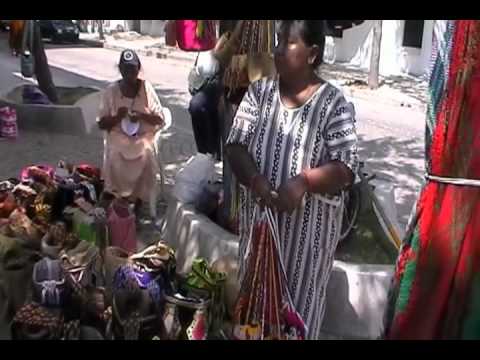 Music by Rolando Sánchez and his son 'Don Pipe', full version can be seen here.
A new continent a new way of doing things. This time it's not first come, first served. It's best bid, happy kid! (or wife, or husband or yourself, whoever you want to make happy) The bidding will start on the bottom price for which I purchased the pieces including sending cost. Bidding will last until Monday 21st of February 23:59, Dutch time (figure it out). Only subscribers to the newsletter can participate. All extra money (if any) will be invested in products from the next talent. If the bags have not been sold by that time I will burn them to ashes (nahh, I'll probably make some people very happy with them).
I bought these 3 bags for 50 dollar. Sending costs are lower than usual, because I will combine this shipment with the next product. Bear in mind: for some bags Carmen uses up to 15 days to make them!
Starting bids:
Number 1: € 19,80, excl. 6% tax | € 14,80 (20 dollar) + € 5,- sending costs
Number 2: € 10,40, excl. 6% tax | € 7,40 (20 dollar) + € 3,- sending costs
Number 3: € 19,80, excl. 6% tax | € 14,80 (20 dollar) + € 5,- sending costs
Next to random shouts, bidding can be done in the comments!