Posts tagged
hindu
Bombay (Mumbai) was the last stop on my year of travelling around the world. The enormous size of this city became clear to me when my bus to Bombay took it's job literally and dropped me next to the 'welcome in Bombay' sign at 4 o'clock at night. Judging from the slum-like surroundings, I figured this was not the area of the Taj Mahal hotel where Bombay's salvation army manages a budget-hostel. I was lucky to find a capdriver who explained that a drive to my destination would take another hour and cost 6 times the bus fair I just payed my nightbusdriver. Fortunately he could take me to the metro for a considerable lower fare and so, with the sun rising over Bombay, I took the first commuter-packed metro-ride into town.
These last days I spent exploring this city of extremes in search of the 52nd creative talent to feature on the Global Talent Project, while simultaneously reflecting on this last year of digitally promoting creative entrepreneurs. Aside from the general travel-experiences, each encounter with a GTP-talent was filled with small cultural and ethnic extraordinaries that gave me a small insight in their totally unique and different world. At the same time, despite their apparent dissimilarities, they consistently had a few things in common: they all love what they are doing, they are ambitiouse to improve their skills and their life, they are full of energy, they dare to take matters in their own hands and change their ways and are not afraid to experiment with new concepts. Above all, they seem happy with their life.
The last creative entrepreneur of the GTP fits this description perfectly. Apet Pramod not only drew my attention to his beautiful paintings, but I could also relate to the title of his exposition. As my plane was scheduled for the next day to take me back home after a year of travelling, I could only agree: it's a 'little world'!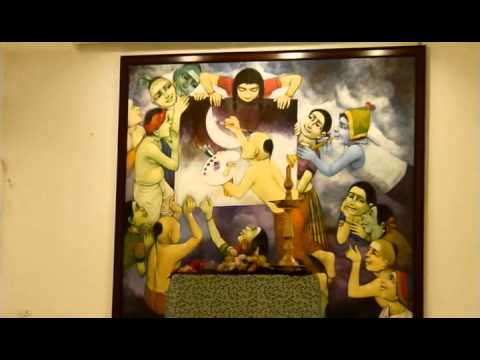 Music by The Malangi's from Amritsar. Full clip of the song here!
Contact Apet Pramod directly via his website: www.apetpramod.com
That's it! One year of travelling to discover talent has resulted in a lifetime experience and 52 artists and musicians from various cultural backgrounds all in one place on the internet. I'm working on a plan to continue the GTP in some form or the other, but first my priorities must be with earning a living. Feel free to contact me with ideas or suggestions for the GTP, or follow me in my own quest to earn a living as a creative entrepreneur with flaks.nl.
The search for artists in Nepal could have been a short one. In Kathmandu there is plenty of choice in beautiful realistic and semi-abstract Nepalese sceneries of Himalayan mountains, rise-paddies, people working the land and Buddha's. The problem is that you see this kind of art on every corner and it's hard to find an artist that stands out from the crowd. It was not before I went to bhaktapur, a little town in the Kathmandu valley, and visited a little gallery on 'Peacock square' that I found art that was different. Prabin Karki is a self-taught artist who is inspired by his extensive travelling in the region. For Prabin, art is a representation of culture. His work is based upon the many religious expressions found in the region, from which he tries to distil the best features. In some of his paintings he represents the two faces of humans: Good and evil.
Experimenting is part of Prabin's passion and so his works will never be the same. By experimenting he also came across his special way of creating relief and a mystical feeling that draws the viewer straight into the Nepalese culture. Prabin is a true ambassador for Nepal.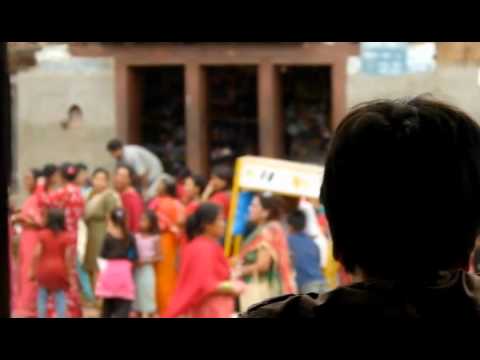 Music by Shyam Nepali, a very talented Sarangi player from Nepal. A full version of the song in the video can be found here.
Interested in Prabin's art? Visit the gallery on Peacock square in Bakhtapur whenever you are in Nepal, or contact the GTP to get in touch with Prabin! More pictures here.
When you arrive in Bali from the airport around Kuta, especially at night, you will be greeted by a sudden rise in temperature, the smell of burned wood and incense, mystical statues of demons dooming up from smoky corners, curly ornamental decorations everywhere you look. Your first motorbike trip will lead you through rise fields as far as the eye can reach, until they rush up like a tidal wave against Bali's giant volcano's. You will feel alive more than ever, not only because of the near-death experiences you'll experience while making sense of the seemingly anarchist Balinese traffic, or the near misses of anything that has tales or feathers along the bumpy Balinese roads. Life here is breathing from every aspect of Balinese culture. You will find yourself stuck in traffic behind yet another ceremonial procession or dreaming away on the rhythmic sounds of a gamalang being played while you imagine the mythical Balinese gods performing their magical dances while contemplating the fate of its god-fearing people.
A fate that is not only controlled by the smoky and colorful offerings that fill the streets. Tourism strikes Bali hard. While it is for many a primary form of income, Bali holds the worlds worst examples of when tourism goes horribly wrong. The party-filled streets of Kuta or the prostitute filled bars of Sanur hold a gloomy prospect for Bali's future.
Fortunately Bali's culture is impressively strong and it is still passed on from generation upon generation. With so many cultural expressions, it is harder to choose talent than find it. However, the following talented artist really stood out. Granted, the style is definitely not unique, but Iwayan's (1982) Keliki-paintings hold a promise of eternal Balinese culture. He welcomed me in his typical Balinese home in Keliki, the hart of one of Bali's most traditional and most precise hand-paintings. His painting-group not only makes beautiful and very detailed paintings of Balinese culture, they also teach their skills to next generations to come.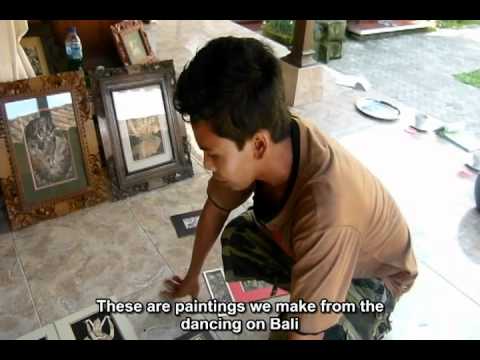 Music (title: jangi janger) and dance performed by Komang and the staff from Swasti eco cottage, Ubud. Check them out whenever you're in Bali!
The painting-group consists of 10 painters that keep on teaching each other and a younger generation to come. The paintings come in a strong cardboard frame, like shown in the first picture. If you are interested in buying in a wooden frame like shown in pictures 3 and 8 you can contact me for details!
1. Small paintings (as shown in the video):
Barong dance (12 x 18): € 16,30 (200.000 IDR, Normal price 250.000)
Rama Sita (romeo and juliet) (12 x 18): € 16,30 (200.000 IDR, Normal price 250.000)
Oleg Dance (12 x 18): € 16,30 (200.000 IDR, Normal price 250.000)
2. Example small painting (12 x 18)
3. Rahwana (24 x 35), god of evil who kidnapped Sita, is killed by the monkeys of Rama. Unique painting: € 204,- (2.500.000 IDR, normal price: 4.000.000)
4. Reincarnation (26 x 37) God mythology: God almighty helps Dewa to come out of the egg and kill all evil. Unique painting: € 204,- (2.500.000 IDR, normal price: 4.000.000)
5. Barong Calonarang (35 x 17) Balinese funeral. Unique painting: € 183,55 (2.250.000 IDR, normal price 3.500.000)
6. Rice field (20 x 50). Typical Balinese scenery. Unique painting: € 204,- (2.500.000 IDR, normal price 4.500.000)
7. Modern scenery in Keliki style. Iwayan makes this for a Balinese hotel, price negotiable, around 4.000.000.
8. Rama Sita (25 x 35): € 24,45 (300.000 IDR, normal price 400.000)
Prises do not include a 10% shipping-fee to The Netherlands. Extra costs do apply if it has to be send to you outside of Holland.