Posts tagged
Nepal
The search for artists in Nepal could have been a short one. In Kathmandu there is plenty of choice in beautiful realistic and semi-abstract Nepalese sceneries of Himalayan mountains, rise-paddies, people working the land and Buddha's. The problem is that you see this kind of art on every corner and it's hard to find an artist that stands out from the crowd. It was not before I went to bhaktapur, a little town in the Kathmandu valley, and visited a little gallery on 'Peacock square' that I found art that was different. Prabin Karki is a self-taught artist who is inspired by his extensive travelling in the region. For Prabin, art is a representation of culture. His work is based upon the many religious expressions found in the region, from which he tries to distil the best features. In some of his paintings he represents the two faces of humans: Good and evil.
Experimenting is part of Prabin's passion and so his works will never be the same. By experimenting he also came across his special way of creating relief and a mystical feeling that draws the viewer straight into the Nepalese culture. Prabin is a true ambassador for Nepal.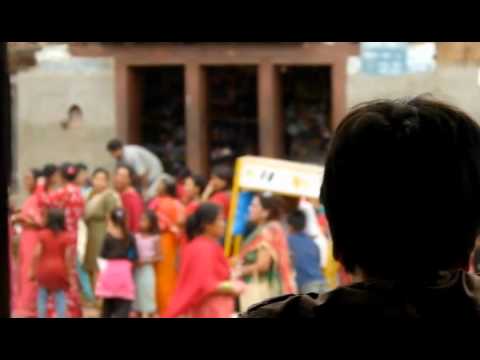 Music by Shyam Nepali, a very talented Sarangi player from Nepal. A full version of the song in the video can be found here.
Interested in Prabin's art? Visit the gallery on Peacock square in Bakhtapur whenever you are in Nepal, or contact the GTP to get in touch with Prabin! More pictures here.
'It takes a crane to build a crane'… (Jason Mraz in his song: 'Life is wonderful') Life certainly is wonderful in Nepal, or at least: if you know where to look! Madan Shrestha knows this very well and has both a talented eye as a talented hand when it comes to painting the moments of life that make Nepal such a unique country. Being only 22 (1989), Madan is a remarkable talent. He is part of a group of upcoming artists, schooled in the school of arts in Kathmandu. In Madan Shrestha's case, it takes an artist to make an artist. Not only did he become passionate about art because of his teacher when he was a little boy, he now also shares this passion with the vast amount of children that he teaches in school.
When I met Madan, he had just finished a very successful first solo-exhibition in Kathmandu called 'moment of life'. I couldn't wish for a better moment to help Madan with more digital promotion. It should be noted that Madan considers himself to be in the experimental faze of his painting-career and that he will experiment further with different styles and materials. One thing is very clear however. Madan is very much inspired by everyday life in Nepal and how it relates to Nepalese natural beauty. I, for one, am very interested in where his creative career will lead him. For the Global Talent Project (and because my knowledge of the Nepales language is limited to 'namaste'), Madan bravely talked with me in English.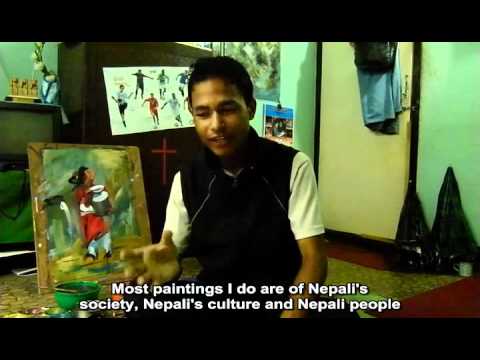 Music by Kutumba, a very popular Nepalese band, that I had the fortune to visit when they where practising. The full version of the music in this video can be found here.
Madan's art has mostly been sold, so this time it will not be possible to buy his art via the GTP. If you are interested in contacting him however, you can contact the GTP for his details. More photo's of his work here.