Posts tagged
Ometepe
Artists do not always work completely alone and for the quality of their work it's sometimes better that other people take care of business. On the mysterious volcanic island Ometepe in Nicaragua I found a very friendly couple that take care of their art-business together.
Edison and Rosa do not have a lot, but use almost every recourse on the island to get by. Rosa takes care of the business, selling the products and Edison uses all the natural resources available on the island to create it. The products that are made? Nicaraguan Jewelry!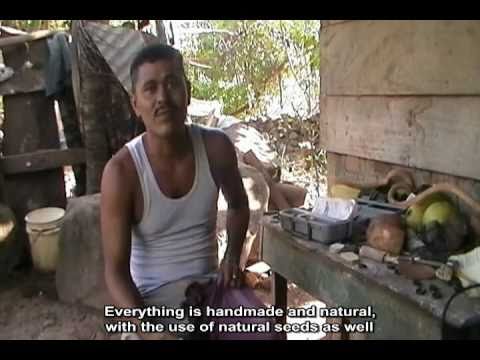 Edison has been working as an artist for more then 8 years now. The material that he uses are mostly seeds from his garden and stones from the volcano's.  The inscriptions that he carves in the seeds are inspired by the ancient indigenous that lived on the island and made the stone carvings by which it got famous. Making one piece approximately takes half an hour.
Entonces, a very special product! However, because Edison and Rosa do not have an email-adress yet (nor an international bank-account for that matter), I felt that it would be better to buy some jewelry straight away for you to purchase.
As always: first come, first served and in this case only people that can either pick it up from Lochem or Utrecht in the Netherlands can participate in the purchasing process. Bear with me with the sending process, it might take up to a month before this product is making you shine…
Prices per piece: The price per piece is € 4,- (5,25 US dollars) in total. First to mail me OR (better) respond below (with the numbers!) can collect the pieces either in Lochem or in Utrecht (The Netherlands).
Update: all jewelry was sold within a day