Posts tagged
the malangi's
Bombay (Mumbai) was the last stop on my year of travelling around the world. The enormous size of this city became clear to me when my bus to Bombay took it's job literally and dropped me next to the 'welcome in Bombay' sign at 4 o'clock at night. Judging from the slum-like surroundings, I figured this was not the area of the Taj Mahal hotel where Bombay's salvation army manages a budget-hostel. I was lucky to find a capdriver who explained that a drive to my destination would take another hour and cost 6 times the bus fair I just payed my nightbusdriver. Fortunately he could take me to the metro for a considerable lower fare and so, with the sun rising over Bombay, I took the first commuter-packed metro-ride into town.
These last days I spent exploring this city of extremes in search of the 52nd creative talent to feature on the Global Talent Project, while simultaneously reflecting on this last year of digitally promoting creative entrepreneurs. Aside from the general travel-experiences, each encounter with a GTP-talent was filled with small cultural and ethnic extraordinaries that gave me a small insight in their totally unique and different world. At the same time, despite their apparent dissimilarities, they consistently had a few things in common: they all love what they are doing, they are ambitiouse to improve their skills and their life, they are full of energy, they dare to take matters in their own hands and change their ways and are not afraid to experiment with new concepts. Above all, they seem happy with their life.
The last creative entrepreneur of the GTP fits this description perfectly. Apet Pramod not only drew my attention to his beautiful paintings, but I could also relate to the title of his exposition. As my plane was scheduled for the next day to take me back home after a year of travelling, I could only agree: it's a 'little world'!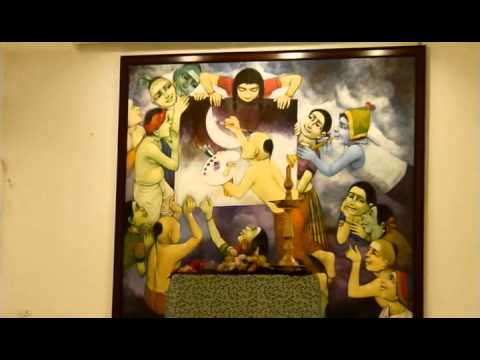 Music by The Malangi's from Amritsar. Full clip of the song here!
Contact Apet Pramod directly via his website: www.apetpramod.com
That's it! One year of travelling to discover talent has resulted in a lifetime experience and 52 artists and musicians from various cultural backgrounds all in one place on the internet. I'm working on a plan to continue the GTP in some form or the other, but first my priorities must be with earning a living. Feel free to contact me with ideas or suggestions for the GTP, or follow me in my own quest to earn a living as a creative entrepreneur with flaks.nl.
The Punjab always had a mysterious ring to it and when I went there to visit its most mystical attraction in Amritsar I was not disappointed. This is the land predominated by the Sikh, just as mystical to me as any other planet in Star Wars. My first encounter with a particularly large Sikh had been in the hills around Dharamsala. I had just dodged two evil-looking monkeys and must have smiled a little too happy, because for some reason the passing Sikh decided to embrace me in a deadlock, lifting me of the ground like I was a kids' doll and swirled me around until he had me screaming for mercy. 'WELCOME TO INDIAHHHHH!!' He exclaimed and nearly floored me when he affectionately patted me on the back. I said it was nice to meet him and would subsequently dodge any turban in the area for the next week. It turned out the greeting of my new-made friend in Dharamsala had been exceptionally firm and the equally friendly people in Amritsar would limit their sign of affections to a mere handshake.
During my visit, Kps Gill explained to me that he believes all people are the same. Visiting the open-to-everybody golden temple I got the feeling that this welcoming attitude is shared throughout the Punjab. Still, one could say that Kps Gill is different from the people around him. He is successful in his job as a team leader in retail at the biggest 'hypercity' mall in Amritsar, but after practicing his painting-hobby for 10 years, he decided to give 'talent' a shot. And, judging from his paintings he already had made, why not? His first exhibition starts today (25 October 2011) in the S. G. Thakar Singh art gallery in Amritsar!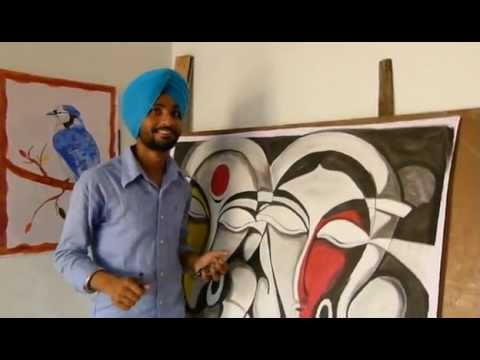 The song played by The Malangi's is a typical Punjabi Jugni. Full version here!
The music is from The Malangi's. A band that combines the traditional lyrics with a more Western tune. They are now still studying software engenering, but with multiple new songs and invitations to start recording a CD, it seems just a matter of time before they brake out of the Punjab in the land of fame and fortune. The recordings I made when I spent an afternoon with them on the country side will follow shortly!