Posts tagged
tibet
As I could not get into Tibet due to China's celebration of the 'liberation' of the region, I decided to visit the Tibetan government in exile instead. Mc Leod Ganj is a small village near Dharamsala in India where Tibetan refugees have made a home away from home. The place was covered in mist and apart from some monkeys and a dog that attacked me, I liked the mysticism of it. When I went looking for talent I naturally got lost three times before by coincidence I met a girl that was on her way to the Tibetan Institute of Performing Arts. It turned out she was a performer in the Tibetan opera. I immediately assumed her voice could probably brake mirrors and that she most likely performed with bearded men having extraordinary jaw dropping mouth-capacities. When I visited for the practice session however, it turned out that this is a whole kind of different opera! No beards, no braking mirrors, but a ferocious attack of goose bumps out of nowhere. This is something you need to hear!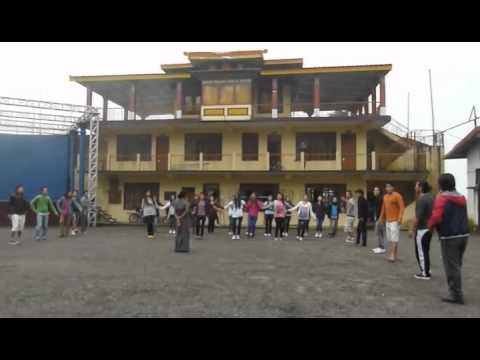 The video was made during a practice session and contains just a small selection of different clippings. For the real deal, TIPA welcomes you to drop by!
The diversity of different cultures in the world for me is one of the most interesting features of traveling. The Tibetan Institute of Performing Arts (TIPA) is an organisation that tries to preserve and promote this kind of culture. More about this institute and how to get their music can be found on http://www.tibetanarts.org/
To put it in the words of the Dalai Lama: "Protecting an ancient culture like this is the responsibility not only of the concerned nation, but also of the world community as a whole."
The search for artists in Nepal could have been a short one. In Kathmandu there is plenty of choice in beautiful realistic and semi-abstract Nepalese sceneries of Himalayan mountains, rise-paddies, people working the land and Buddha's. The problem is that you see this kind of art on every corner and it's hard to find an artist that stands out from the crowd. It was not before I went to bhaktapur, a little town in the Kathmandu valley, and visited a little gallery on 'Peacock square' that I found art that was different. Prabin Karki is a self-taught artist who is inspired by his extensive travelling in the region. For Prabin, art is a representation of culture. His work is based upon the many religious expressions found in the region, from which he tries to distil the best features. In some of his paintings he represents the two faces of humans: Good and evil.
Experimenting is part of Prabin's passion and so his works will never be the same. By experimenting he also came across his special way of creating relief and a mystical feeling that draws the viewer straight into the Nepalese culture. Prabin is a true ambassador for Nepal.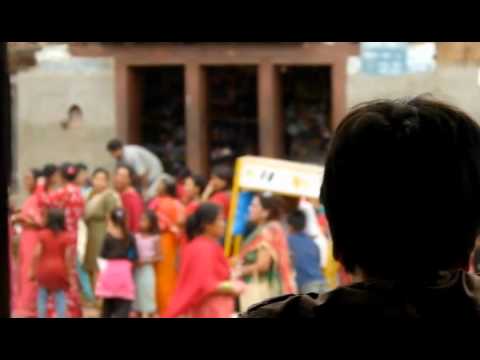 Music by Shyam Nepali, a very talented Sarangi player from Nepal. A full version of the song in the video can be found here.
Interested in Prabin's art? Visit the gallery on Peacock square in Bakhtapur whenever you are in Nepal, or contact the GTP to get in touch with Prabin! More pictures here.