Posts tagged
traditional
When you arrive in Bali from the airport around Kuta, especially at night, you will be greeted by a sudden rise in temperature, the smell of burned wood and incense, mystical statues of demons dooming up from smoky corners, curly ornamental decorations everywhere you look. Your first motorbike trip will lead you through rise fields as far as the eye can reach, until they rush up like a tidal wave against Bali's giant volcano's. You will feel alive more than ever, not only because of the near-death experiences you'll experience while making sense of the seemingly anarchist Balinese traffic, or the near misses of anything that has tales or feathers along the bumpy Balinese roads. Life here is breathing from every aspect of Balinese culture. You will find yourself stuck in traffic behind yet another ceremonial procession or dreaming away on the rhythmic sounds of a gamalang being played while you imagine the mythical Balinese gods performing their magical dances while contemplating the fate of its god-fearing people.
A fate that is not only controlled by the smoky and colorful offerings that fill the streets. Tourism strikes Bali hard. While it is for many a primary form of income, Bali holds the worlds worst examples of when tourism goes horribly wrong. The party-filled streets of Kuta or the prostitute filled bars of Sanur hold a gloomy prospect for Bali's future.
Fortunately Bali's culture is impressively strong and it is still passed on from generation upon generation. With so many cultural expressions, it is harder to choose talent than find it. However, the following talented artist really stood out. Granted, the style is definitely not unique, but Iwayan's (1982) Keliki-paintings hold a promise of eternal Balinese culture. He welcomed me in his typical Balinese home in Keliki, the hart of one of Bali's most traditional and most precise hand-paintings. His painting-group not only makes beautiful and very detailed paintings of Balinese culture, they also teach their skills to next generations to come.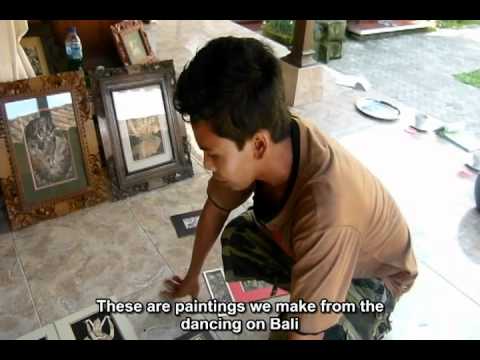 Music (title: jangi janger) and dance performed by Komang and the staff from Swasti eco cottage, Ubud. Check them out whenever you're in Bali!
The painting-group consists of 10 painters that keep on teaching each other and a younger generation to come. The paintings come in a strong cardboard frame, like shown in the first picture. If you are interested in buying in a wooden frame like shown in pictures 3 and 8 you can contact me for details!
1. Small paintings (as shown in the video):
Barong dance (12 x 18): € 16,30 (200.000 IDR, Normal price 250.000)
Rama Sita (romeo and juliet) (12 x 18): € 16,30 (200.000 IDR, Normal price 250.000)
Oleg Dance (12 x 18): € 16,30 (200.000 IDR, Normal price 250.000)
2. Example small painting (12 x 18)
3. Rahwana (24 x 35), god of evil who kidnapped Sita, is killed by the monkeys of Rama. Unique painting: € 204,- (2.500.000 IDR, normal price: 4.000.000)
4. Reincarnation (26 x 37) God mythology: God almighty helps Dewa to come out of the egg and kill all evil. Unique painting: € 204,- (2.500.000 IDR, normal price: 4.000.000)
5. Barong Calonarang (35 x 17) Balinese funeral. Unique painting: € 183,55 (2.250.000 IDR, normal price 3.500.000)
6. Rice field (20 x 50). Typical Balinese scenery. Unique painting: € 204,- (2.500.000 IDR, normal price 4.500.000)
7. Modern scenery in Keliki style. Iwayan makes this for a Balinese hotel, price negotiable, around 4.000.000.
8. Rama Sita (25 x 35): € 24,45 (300.000 IDR, normal price 400.000)
Prises do not include a 10% shipping-fee to The Netherlands. Extra costs do apply if it has to be send to you outside of Holland.