Tony – Woodcrafting artist
Name: Ignatius 'Tony' Peyrefitte | Born: 1963 | Nationality: Belizean | Location: Belize city, Belize
Ever seen an impressive statue made out of wood and wondered where it came from? Tony is your answer! Tony is an extraordinary woodcrafter from Belize city and started to love making art from the first day that his father taught him how to do it. His father is not working any more, but he still guides Tony along. On more and more occasions, Tony manages to surprise his dad when he thinks something can not be done. Tony likes a challenge and in the video below you can see this for yourself!
I met Tony when he was just busy working on Christmas decorations with friends and family. With the radio playing Christmas-songs and a busy road just in front, this proved to be a rather noisy meeting. However, as you will see in the video, Tony supersedes any noise with his extraordinary woodcrafting talent!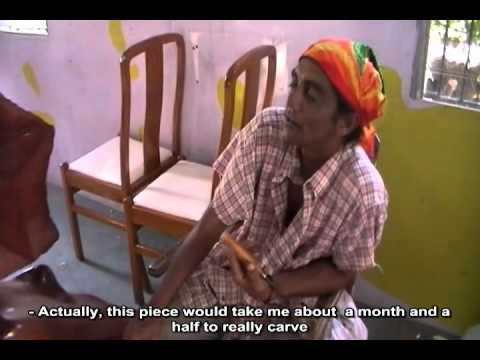 Tony already has customers all over the world (among them: America, China and England). In the beginning, mostly customers would come to his dad. Later Tony got more and more positive reactions and he started to attract more attention. Also locals and tourists are interested in his work.
The Material he uses is mostly ziricote wood (only found in Belize and parts of Mexico). He also uses mahogany and rosewood. He especially likes to work with the roots, because it gives more challange, possibilities en surprises. The wood he uses was not cut for this purpose. The piece that is shown in the video is made of a mahagoni-trunk that was found by hunters 7 to 10 years ago. From that piece he made about 4 huge sculptures and he resuses the leftovers. Tony also has has friends in rural area's that contact him whenever they find a dead (piece of) ziricote or mohagoni tree.
Tony makes a big piece like shown in the video every three months. His work is based on all different kinds of cultures, like Indian, Indian-Mayan and African. His mother is East-Indian and his father is Kriol. Now he teaches the woodcrafting skills to his son, N-J, who just might become the next 'Tony' in a few years time.
If you are interested to see more from Tony's work, you can get into contact with him by contacting the Global Trade Project, subject: 'Tony'.