Belize's got Talent! – Meet woodcrafter Tony
When searching for talent in Belize, one can not pass Belize city. In a previous post I made a small comment about this barricaded city where it is highly recommended not to go outside at night. Fortunately however, there is a lot more to meet the (western) eye then a bunch of marijuana-selling dollar-hunters with an identity crisis between rasta and hardcore gangster-bad-assyness.
Belize's got talent! And not just a little bit. To my surprise there are numeral institutions in place that help local talent to flourish. Especially when looking beyond the handicraft-market build around the entrance for cruise-ship hop-on-hop-off-tourists (where I got the feeling that mostly resellers pray for the big spenders). The Image Factory proved to be the best place to go and its curator, Gilvano Swasey, pointed me in the right direction for the 'sexiest' artists in town. One of them being Ignatius 'Tony' Peyrefitte.
I met Tony when he was just busy working on Christmas decorations with friends and family. With the radio playing Christmas-songs and a busy road just in front, this proved to be a rather noisy meeting. However, as you will see in the video, Tony supersedes any noise with his extraordinary woodcrafting talent!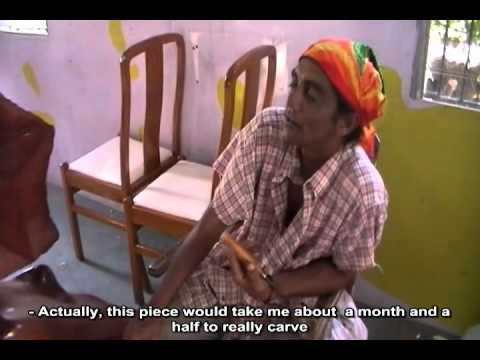 The wood that Tony uses is collected solely from trees that where already dead when discovered (either by hunters or friends in rural villages). The big piece with the naked lady and the carp was made out of a piece that Tony got 7 to 10 years ago. From this piece he made three other pieces like this and every piece of wood that was not used is reused in other woodcraft-projects. In other words: Tony does not let any wood go to waste!
This time it will not be possible to buy any art from Tony via the Global Trade Project. I made this video to help him in promoting his special woodcraft as he does not have his own website (he doesn't even have e-mail, yet). However, for the big spenders among you: if you want to contact Tony about a piece seen in the video, or maybe a specific woodcraft wish, you can contact me with the subject 'Tony'. Also, if you don't want to forget about Tony, add his web-page www.globaltradeproject.com/tony as one of your favourites!
Tony will enter the virtual realms of the internet to see this blog, so any comment you leave is best placed in English!
This entry was posted by Elmar Haker on 7 December 2010 at 23:33, and is filed under Tradeblog. Follow any responses to this post through RSS 2.0. Both comments and pings are currently closed.
One comment