Chinchero – Peruvian woolcraft
Machu Picchu was reason enough to skip one GTP-Tuesday and check out the ancient Inca world. To compensate for the time lost, I asked my guide to set me up with local talent he thought was worth promoting. Once back from this beautiful location of stapled rocks, I thus went into a meeting with talent without actually meeting the person(s) beforehand. It turned out to be an interesting visit! Cyntia was waiting in my hostel lobby with the curiouse glances of the hostel-staff frequently hoovering over her traditional clothing. Together we took a taxi to nearby Chinchero, an artisania town in a nearby sacred valley of the Inca's. Here Cyntia, Sonia, Adelaida and Vicente soon entered to show their craft!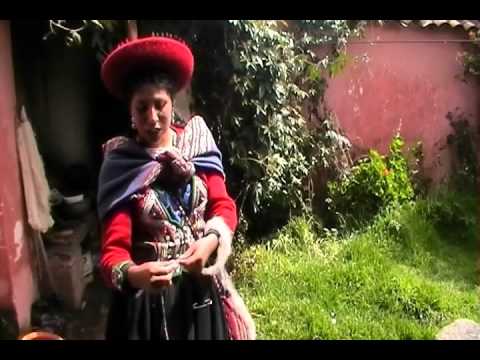 Music by Hiroyuki Akimoto from the group 'Anata Bolivia' from Bolivia (who once where flown over to Holland to perform for the Dutch prinsess Maxima and a delegation of Dutch ministers!)
This time I bought one of the handmade table-clothes. I also decided to buy some of the fabric-produced products that the woman sold as well as I know some of you might be interested in the Alpaca-wool products (at least I am!).
The products will be send to Holland (sending costst from there are for the customer). I paid the below prices to the woman for the products and a little more because they gave me food (jummy! guinea pig!) and a free tour through the Chinchero Inca ruins. The prices are minimum starting bids. Any bid above 6% extra will not include the 6% tax.
Please consider sending costs in the bidding and the cheap prices (elsewhere Alpaca wool caps sell for $42 if bought via the internet), furthermore: they're REALLY warm and comfortable and a handmade table cover… well, it just rocks! Items that are not sold here will be sold later when I'm back in Holland. No worries!
Starting bids:
1 – 3. Alpaca wool caps: per cap € 7,- (9,90 USD)
4. Alpaca Scarf (+cap): € 12,- (16,90 USD)
5. Alpaca jumper (size S/M): € 10,- (14 USD)
6. Handmade Table Cover: € 33,- (46,50 USD)
This entry was posted by Elmar Haker on 29 March 2011 at 20:00, and is filed under Tradeblog. Follow any responses to this post through RSS 2.0. Both comments and pings are currently closed.
10 comments