Domingo Yojcom Coche – Guatemalan art
They say San Pedro La Laguna breaths art. I went to check it out and found that it does! This time it was difficult to choose an artist to promote. All over this village there are numerous artists whose main inspiration seems to be the volcano's and the lake. Although beautiful as well, I went looking for a somewhat different style and found it by coincidence, just around the corner of my hostel.
Domingo Yojcom Coche was just busy decorating his garden, which I found by following a sign that read 'art-teacher'. One might say he's a multi-talent, because next to making his own paintings, he also teaches tourists how to do it. Next to this, he is currently combining painting with opening a bar and a small hostel: Casa Yojcom.
But all this didn't convince me to promote him. It was a combination of his character and the painting he was just working on. Take a look at the video and get an impression of the artist 'Yojcom'!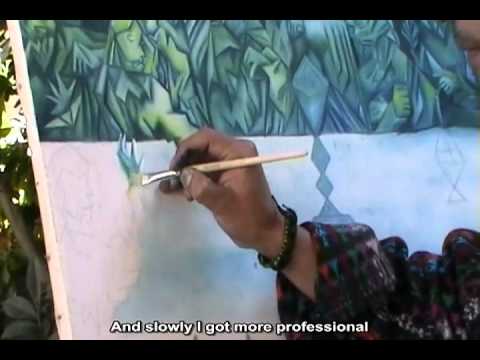 Unfortunately his latest work was just on display in a gallery in Guatemala city, so I can't offer anything directly via me. However, Domingo will send me photo's of more of his work next week and then it will be possible to order directly from him.
For customers via the GTP, Domingo's prices are around the following, excluding packing (€ 5,-) and sending costs (around € 20):
22,5 cm x 28 cm = 350q (43,75 USD | € 33,32)
20,5 cm x 51 cm = 450q (56,25 USD | € 42,84)
60 cm x 80,5 cm = 900q (112,50 USD | € 85,68)
60 cm x 86 cm = 1500q (187,50 USD | € 142,80)
115 cm x 130 cm = 1800q (225 USD | € 171,36)
Domingo can also make paintings on order. A small painting takes about one to two weeks to complete, the larger ones normally take about a month.
Domingo's web-page can be found at www.globaltradeproject.com/yojcom and as always: you can contact him directly by contacting me (subject 'yojcom').
This entry was posted by Elmar Haker on 21 December 2010 at 16:51, and is filed under Tradeblog. Follow any responses to this post through RSS 2.0. Both comments and pings are currently closed.
2 comments