Ecuadorian jumpers – Marcelo from Otavalo
Ecuador provides a different scene than the spectacular South-Colombian region where I just came from. My sister had been in this region before and described the bus-ride down as one of the most bumpy once she ever took. My internal systems decided that this was not enough exhilaration however and after one hour of the 14 hour bus-ride I had to ask the full bus for an emergency stop PRONTO and continued to do so for the rest of the day. I was in Ecuador before I knew it. Literally. The coke-happy colectivo driver did a spook-ride to avoid what would have been a 3 hour wait in border-traffic and announced after a mere full-on-collision with a Colombian truck proudly that we had arrived in Ecuador. I had to backtrack through this border of chaos to get my documents in order, trying to explain to the officials that I really wás just a helpless Dutchy that didn't mean to cross their well secured border by accident.
I arrived on the deserted streets of Otavalo late Friday-night, but found the streets packed with marked-vendors and tourists the following morning. It was time for some exploring!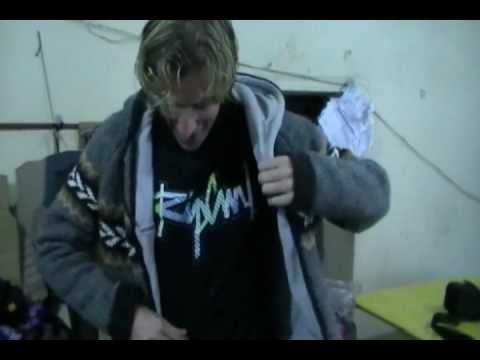 Music by Vira Churos, a local band from Otavalo
What is the talent in this case, you might ask. It's Marcelo's creative thinking in making the optimal sweater! Unlike many other sweaters in Otavalo he provides soft and warm inside material that at the same time prevents the wool to make you feel itchy. Next to this, the families extensive experience with making wool sweaters provides for stronger and durable sweaters. It makes a big difference where you sew two pieces together and how you do it. Marcelo and the people in his workshop are up for the job!
The jumpers cost between 25 and 30 dollars. This time I didn't purchase more, but hopefully lay the foundations for future trade. If you are interested in getting one of these handmade jumpers please contact me. If enough people are in, I'll arrange a shipment to Holland!
This entry was posted by Elmar Haker on 2 March 2011 at 02:55, and is filed under Tradeblog. Follow any responses to this post through RSS 2.0. Both comments and pings are currently closed.
6 comments