GTP in Central America – A review!
It's been two weeks since the last update and you might wonder what happened. Well, with almost every means of transport I have crossed the Darién gap from Panama to Colombia and entered a total new world. During my travels I took the time to reflect on the last 3 months of GlobalTradeProject and prepared myself for these coming months in South-America. The video follows me crossing the Darién while reviewing all the great talented persons I have met in this beautiful and intriguing part of the world. For new visitors, take a look and get a feeling of what the GTP is all about! For visitors that are familiar with the concept… well, you know. Just take a look and let me entertain you!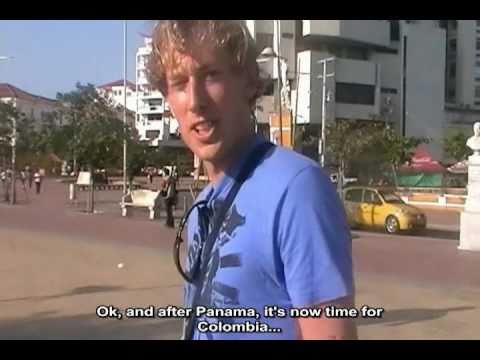 Uncut version of the Argentinian band Ven Fresca playing their song here.
How do I find talent?
Every time this is different. That's what makes it great! The searching process alone usually takes half a day in which I meet tons of people and get an enormous amount of talent to choose from. My choice depends mostly on the product, the person making it and the location where it is made. It's great how people actively try to help you get in touch with the person you want.
where do I work?
You can find me in a bar, on the street, on a couch somewhere, but mostly just easy in a hostel with WiFi. When travelling 2 years ago through South-East Asia, WiFi certainly wasn't this well developed, but now it is. Apart from the social loss of travellers gazing at their computer-screens all day, I'm not complaining.
How do I translate?
First I do my interview and bombard the poor artist with all the Spanish I can muster to get him/her to understand what it is I want to know. Then, in most cases – mostly to my surprise – the artist will enthusiastically start talking and bit by bit becomes more relaxed in the face of a camera aimed straight at their forehead. I understand most things the people say and edit the video before I will ask a multilingual to help me out with the actual translation for the subtitles. You would say that my Spanish improves, but I still feel utterly inapt and vocally handicapped when trying to speak Spanish.
How do I define the price?
This is the most difficult and perhaps the most uneasy task. I find that getting a good idea of the fair price before announcing that I want to promote their work on-line for people to buy is the best option.
How much time do I need?
Too much. I'm still working on more efficiency. searching talent, shooting the video, editing it, translating it, editing it some more, uploading it, preparing the blog, send out the newsletter, update all Social Media and then sometimes also distributing the goods is a lot of work. I don't find the time for further promotion, so if you read this: help me out!
What does it cost?
Nothing, maybe a bus-ride, but then that doesn't weigh up to seeing the country from a total different and mostly local perspective. If anything, some social time with my travel buddies. At the time of writing some of them are frantically trying to save me a beer in the local bar.
How is travel to trade?
It's absolutely the most rewarding thing I've ever done. People are genuinely happy with some crazy Dutch guy stepping up their workshop to ask a bunch of unrecognisable questions while fixating some dodgy camera on their face.
So…. how's it going??
Well, although most products that I bought and made available for people to buy were sold, some weren't. Also, there was some interest in buying directly from the artists, but so far this interest has been modest. The artists and their products are awesome, so it must be something with my talent-promotion and with the amount of people that actually see the video's. Some people have been giving me (unasked) advise and I hate that – JUST KIDDING! – I really appreciate it! If you have suggestions of any kind, let me know! I will keep on experimenting with different ways to promote talent and will appreciate any help ranging from a facebook-like to setting me up with some ridiculously rich investor that will solve all my laptop nightmares.
This entry was posted by Elmar Haker on 9 February 2011 at 05:48, and is filed under Tradeblog. Follow any responses to this post through RSS 2.0. Both comments and pings are currently closed.
14 comments