Jean-Luc Bousquet – Surrealist art Polynesia
After Rapa Nui, Tahiti opened its international French gates for me. This was something else. The plane hardly touched ground or I found myself surrounded by guitar-playing and exotic dancing locals with a flower in my hair. I'd heard that Moorea, the magnific neighbour-island of Tahiti, was the best option for 'backpackers' and took off through flying-fish-filled waters to this island of extremes. Being on a tight budget I spent my days here hitch-hiking around the island on a diet of noodles. This wasn't at all bad for the overall 'Polynesia-experience' as it got me in contact with some very interesting locals and on a trail to TALENT!
Jean-Luc Bousquet proved to be well known among the islanders. But I didn't need the positive remarks of the local cardriving-life-savers to know that he is good. While looking through the islands' tourist-magazine a picture of one of his paintings was enough to know who I was going to visit. His art is sur-real! Take a look at the video and decide for yourself!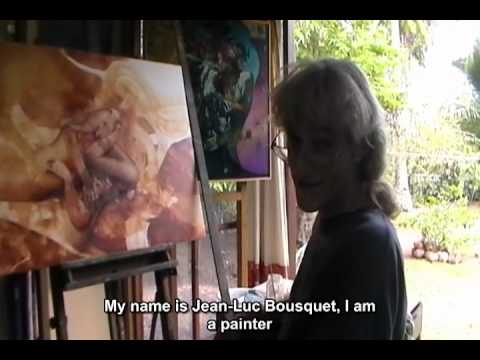 Jean-Luc focuses on the subject rather than the 'decor'. He is influenced by surrealist painters like Dali, but has developed his own typical style. His repertoire is impressive, yet still he finds time to pass on his knowledge to art-students from both Moorea and Tahiti.
This weeks musical light is Pupu mata'i'oa, a local group that performs regularly in Moorea's Hilton among other places. After getting the third lift of another Hilton-employee, I decided fate was pushing me in their general direction. Be sure to visit them whenever you find yourself in Moorea!
Below are some paintings to give you a better idea of Bousquets repertoire. Prices are significantly higher than previous painters in Latin America, but so are the costs of living in French Polynesia. If you are interested in artwork from Jean-Luc Bousquet, as always, you can contact the Global Trade Project! C'est magnifique, no?
1 – unknown title
2 – Bowling for Colombine 116X89
3 – Caresse l'espoir 100×73
4 – Un café et l'addition 162×114
5 – La balise rouge 162×114
6 – Motoro 162×130
This entry was posted by Elmar Haker on 12 May 2011 at 12:50, and is filed under Tradeblog. Follow any responses to this post through RSS 2.0. Both comments and pings are currently closed.
5 comments