Josue Hernandez – Art with a message
A new year, a new talent on the Global Trade Project! What color do you picture in your head when thinking of New Year? Mine is a combination of red, almost exactly the colors that are used by this next talented artist!
Josué Hernández lives in Quetzaltenango, Guatemala. Like Alvarado, he represents a new and upcoming generation of artists that are fast on their way to the top. With his typical different style, it's hard not to notice and recognise his paintings.
What makes Josué special? Well, I hope the video will convince you, but for me, it was just a first glimpse of one of his works that made me want to share this with you. In my search for talent I was passing by a handicraft shop with some of his paintings on the wall. I skipped the idea of featuring a total village around Xela (I hope someone else will do this in the future) and went straight for this special talent. Take a look!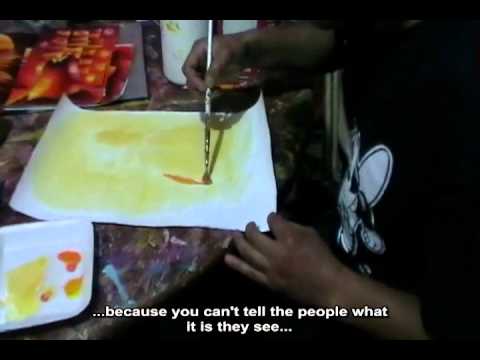 The material Josué uses is manta and canvas, texture and aquarel (watercolor). The paintings in his video are for sale. Below I added three paintings that also feature in the video. Prices are around 1800 quetzal (224,57 USD, € 168,24). This does not include shipping costs (normally around € 20,-). Take a closer look at the pictures below and contact me to get in contact with Josué Hernandez!
Happy New Year!
This entry was posted by Elmar Haker on 4 January 2011 at 18:38, and is filed under Tradeblog. Follow any responses to this post through RSS 2.0. Both comments and pings are currently closed.
2 comments