Mario Celedón – Valparaiso painter
Valparaiso is said to be the cultural capital of Chili. It is a name that sparked my imagination ever since I'd heard that it was the home-base of one of the greatest literal wonders the world had ever known: Pablo Neruda. Although I only had 3 days to spend in this harbour-city of the South-West, I was determined to find talent here.
As a general orientation, I decided to visit Pablo Neruda's house (a museum nowadays). Excited I put my digital guide shaped as a mobile phone to my ear. It said this would be an experience I'd never forget. An hour later I stood outside, convinced that I would for always remain a cultural barbarian. Fortunately, my cultural spirits rose when I left the museum and walked down Ferrari street back to the centre. This street turned out to be a museum much more to my interests. And, what's more, it was totally free! All along the way there where wallpaintings (murals) that showed the Valparaiso that I'd imagined ever since I heard of it for the first time. I had discovered my Valparaisen talent!
I met Mario Celedón in his workshop around which most of his work can be admired on the walls. Unfortunately Hostal Bellavista was in the process of getting a new paint. Celedón's work was carefully protected with plastic, but I could imagine better timings for me to come and visit. Anyway, even if not everything was visible, his work is still very impressive. See the video!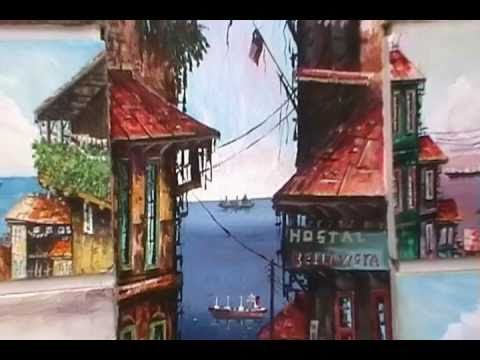 Music by Francisco "Kevin" Jeraldo, full version of the song here
The music, as always, is also a result of a search for talent. In this case I had already given up on finding a musician (3 hours before my bus would leave back to Santiago) when suddenly a man darted past, completely dressed in a way that he might just had walked out of a medieval Spanish painting. It took me a minute to realise that he was actually holding a guitar in his hands and another minute to conclude that he must have talent when walking with a guitar and dressing up like that. Eventually I caught up with him and he invited me to his house for a beer and a performance for the GTP. Jackpot!
Celedón's paintings, as seen on the walls, are also for sale on canvas. Mario can make any of the shown paintings on order. Especially the paintings on the fourth and fifth photo below are popular. Prices for the big center-paintings in the photo are around 100 USD, Smaller paintings range from 25 USD to 50 USD. Contact the GTP to get in touch with Mario Celedón if you would like to have something special on your wall!
This entry was posted by Elmar Haker on 27 April 2011 at 14:50, and is filed under Tradeblog. Follow any responses to this post through RSS 2.0. Both comments and pings are currently closed.
2 comments