Women cooperative CASEM – Costa Rican placemets
Women are just as talented and creative as men. Still it has been a lot easier to find men working in art in central America, then women. There can be multiple reasons for this: one is that I have not been looking well enough (I have), two is that women are not into art or handicraft (they are), or three, there is a cultural reason for it. In Monteverde, Costa Rica, I found talent that proves that women are just as gifted when it comes to talent and that they can express their talent even in a culture which is dominated by masculinity.
In 1982 Patricia Jiménez Castillo helped to start the organisation CASEM (Cooperativa de Artisanas de Santa Elena de Monteverde) to help women that want to work, express themselves and earn their own money. In the beginning this was a secret process, but little by little CASEM established itself in the region and today Patricia, handicapped by polio since the age of three, tells us more about the cooperative and how it affects her life. She also shows us how she makes one of her own creative handmade products: placemets!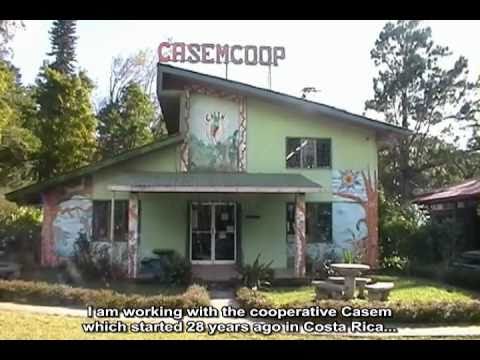 Every placemet is made in a combined effort between Patricia and Damaris Huertas. The painting is done by Patricia, the sewing by Damaris. The artists at CASEM decide the price of their product by themselves, this will be 65% of the final price. The other 35% is to support and maintain the organisation CASEM. The material that Patricia uses is always as environmental friendly as possible. Many times she makes paintings on recycled paper. The painting of the bird and leaves on the placemet takes about an hour., but the preparing work (background, making the models, etc.) makes the process a lot longer.
Once again I have taken the liberty to buy this product for you to purchase. I chose three different designs. I bought 4 of number 1, 3 of number 2 and 3 of number 3. The placemets can only be bought as a set. In other words: these will make the meal of three customers and their guests more colorful in the future!
Normally these placemets cost 12,50 US dollars, but exclusively for the GTP I got them for 10 USD (€ 7,45) per piece. Sending costs will be € 21,- in total, so € 2,10 per piece. My casado (national dish here) will be € 1,- per piece. Including the 6% tax this makes a total of € 11,18 per placemet.
4 placemets of number 1: € 44,72 (60 USD)
3 placemets of number 2: € 33,54 (45 USD)
3 placemets of number 3: € 33,54 (45 USD)
The placemets are on their way to Holland and can get picked up either in Lochem or in Utrecht (or if you are creative somewhere else in the world). First come (in the comments please!), first served!
This entry was posted by Elmar Haker on 18 January 2011 at 19:20, and is filed under Tradeblog. Follow any responses to this post through RSS 2.0. Both comments and pings are currently closed.
5 comments