Testcase: Bjørgulv and the Munnharpe
YES, here it is! The first video of a talented artist somewhere in the world with a special product. Bjørgulv Straume from Norway, famous for practising the munnharpe and renowned munnharpesmed (literally mouth-harp smith, also known as a Jews' harp) shows us how he makes his instrument and gives a free performance while he's at it. You might wonder why the first video was made in one of the richest countries in the world. Well, at first I merely wanted to have a test-case to make my first video for the project, but it turned out to be rather an intriguing visit, a visit that I don't want to withhold from you.
What is a munnharpe, mouth-harp, Jews' harp, or whatever the hell you call it? If you've never heard or seen it, this video will blow your mind. Throughout history, the Munnharpe has become a typical Norwegian instrument that is used in all kinds of folklore music. Bjørgulv performed with his munnharpe at several occasions on state visits and is regularly performing on different cultural occasions around Setesdal, the area where he lives.
The video will give you a quick insight in how Bjørgulv makes his munnharpes. He uses approximately 4 to 5 hours to make one instrument in his wooden shack behind his house in Brokke. When Bjørgulv heard about the Global Trade Project he gladly wanted to participate and make his munnharpe available for purchase via this website.
With its unique sound this instrument can be a blaze in any band or music-performance. Because the instrument is extremely easy to use (just put it on your teeth and use your mouth as a sound-box), you will learn to play it instantly. The munnharpe on which Bjørgulv performs in the video is in G. Order-options are in E, F and G. If you want to order a different tone, please let me know!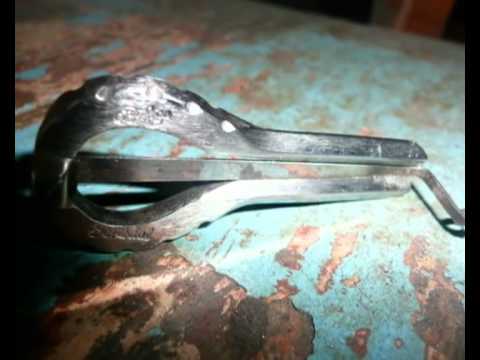 Guitar intro by Onno Prevo.
UPDATE: Due to great popularity of the munnharpe and lack of time on my part, the mouth-harp can no longer be purchased here. You can order a munnharpe directly from Bjorgulv Straume himself via http://home.no/bstraume/
Please help promoting Bjørgulv with the Social Media buttons and/or leave a comment!
This entry was posted by Elmar Haker on 15 October 2010 at 14:44, and is filed under webshop. Follow any responses to this post through RSS 2.0. Both comments and pings are currently closed.
13 comments