Butterfly Art from Belize – Baron Neal
Wow. I've been in Belize for little more than a week, but with the people I've met and all the things I have done, it seems like more then a month. Searching for talent in a country like this is so incredibly rewarding that I'm afraid that no other way of travelling can ever impress me more. The searching for talent is a story in itself, so I'll focus on the talented person that I discovered in Santa Elena, next to San Ignasio at the Guatemalan border.
Baron Neal (1989) is the first artist from Central America that is presented on the Global Trade Project. I was fortunate to spend a whole day with him, in which he told me about his life and about the thing he likes doing most: making butterfly art. Making art from butterflies that died of natural cause is not something that would pop up firstly when thinking of Belize. However, when seeing the next video you might think twice. Baron Neal does not let these beautiful creatures go to waste and proves that creative talent can be used in a very interesting and sustainable way.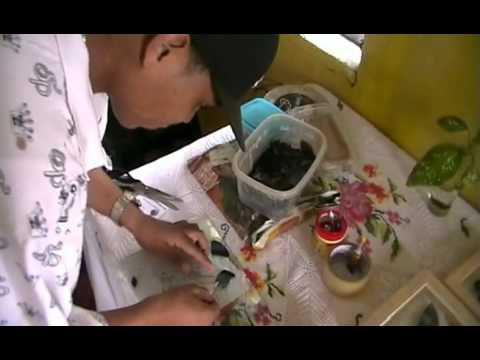 Every artist presented will not only be given the opportunity to get internationally known and sell their handicraft globally, they also get their own page on this website. For Baron, this page is www.globaltradeproject.com/Baron. Here, you will find more information about him, see more examples of his artwork and information for contacting him.
Baron is very happy with the page on the Global Trade Project, because until now he did not have a website for promotional issues. He plans to use the video to get more attention to his art-work and expend his network of customers.
Because I am on a tight schedule to reach Guatemala, I can't do the 4-day-order-period which I had in mind. In stead, I took the liberty (the gamble) to buy the three best art-works that Baron currently had laying and send it to Holland (sending costs total: € 63,-). All three are available for purchase in Holland only. First come, first served.
Parrot = 120 BD (60 USD – € 45,20), sending costs: € 21, my taco: € 3,-, incl 6% tax (BTW) = € 73,35
Hummingbird = 100 BD (50 USD – € 37,70), sending costs: € 21, my taco: € 3,-, incl 6% tax (BTW) = € 65,40
Butterfly = 70 BD (35 USD – € 26,40), sending costs: € 21, my taco: € 3,-, incl 6% tax (BTW) = € 53,42
Guarantee: if the art arrives broken or does not arrive at all, you will get your money back.
Products will arrive in Holland around 13 December. Perfect for Christmas!
First to contact me about purchasing one of the above items will get the opportunity to go through with the on-line purchasing process. Subject 'Purchase Butterfly-art'.
Update: All butterfly-art pieces where sold within a day. To order more directly from Baron, contact him at irysbbutterflyzart (at) hotmail (dot) com
This entry was posted by Elmar Haker on 30 November 2010 at 04:15, and is filed under webshop. Follow any responses to this post through RSS 2.0. Both comments and pings are currently closed.
14 comments