Sergio Alvarado – Guatemalan Paint-art
This time my search for talented artists led me to an art-exposition in Quetzaltenango, a typical Guatemalan city surrounded by volcano's and mountains. The exposition was located at Hotel Modelo, a family owned picturesque place that has been in the same family since 1892. The owners' current mission, it happened, is to promote talent. I was at the right place!
In the hotel I was guided through the various arts by the owner and after I'd asked what he thought was the most promising upcoming artist that could use some extra promotion, he showed me a painting that made me enthusiastic immediately. Sergio Alvarado's paintings spring out from the rest. While being still rather young (1976), he already has developed his typical own style. A style that – in my opinion – screams happiness.
Sergio Alvarado belongs to a younger generation of artists, a generation that more and more leaves the civil war in Guatemala behind and focusses on other ways of expression. As you may feel, Sergio focusses on joy!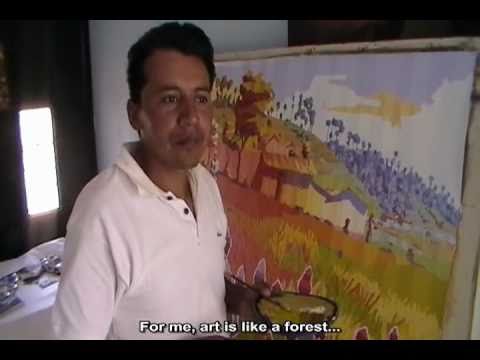 Alvarado learned from some famous artists in Guatemala and likes to study the work of typical famous European artists, whom he finds very inspiring. However, for him it is very important to have his own style. In many ways his work can be characterised as unique and special. Before he started painting, Sergio made weavings. The patching that was done in this work finds its way in his contemporary work. He bases his work on typical local sceneries around the place where he lives in Salcajá. Furthermore, you can find hints of the Guetamalian history in his paintings. The flowers in the painting he is working on in the video are a typical Guatemalan sign, mostly used in weavings of Guatemalan clothing. Sergio is always looking for originality, his typical style is a clear proof of this. 'To come to this typical style' he says, 'is part of a process, an evolution that doesn't come easy, only with years of experience. I am always very happy when I have the chance to show my work to the public'.
All this makes Sergio Alvarado a unique painter and one of the promising upcoming talents in Guatemala. Buying one of Sergio's paintings could prove lucrative. However, having an 'Alvarado' hanging on your wall is mostly an investment in a happy feeling and moments of dreaming away in the typical life that is Guatemala.
The following paintings are currently for sale. As always: first come, first served!
The paintings that are featured here are 26×34 cm and cost €223,64 (300 US dollar) per piece (the name is visible when you hover the mouse over each painting). This price does not include sending costs (approximately €20,-/27 US dollars) and possible border taxes. This time the art can be bought directly from Sergio Alvadaro himself, he gave me a taco for lunch already.
Other paintings in the video might also be for sale (the bigger ones are approximately 50 x 70 cm, € 373,- / 500 dollar, sending not included). Contact me to buy from Alvarado directly or leave your comments below.
This entry was posted by Elmar Haker on 14 December 2010 at 20:31, and is filed under Geen categorie. Follow any responses to this post through RSS 2.0. Both comments and pings are currently closed.
6 comments