Posts tagged
art
Diwali is the festival of lights, India's most important holiday. Like any other festival, when the Indians celebrate, they mean business. Not only literally (on the first day of Diwali all businesses start their financial year), but mainly just by taking it into the extreme. Imagine a combination between Christmass and new years, multiply it by three and add India in the equation and you get what I found in Udaipur, the last city I visited in Rajasthan. Lighted plastick palmtrees, beard competitions, foodstalls, sweets and a lot of fireworks, all under a roof of glittering and gleaming decorations, makes the scene of Indian families visiting their relatives. Since I had no relatives in Udaipur, I decided to start searching for talent. As Udaipur is also known as one of the most romantic cities in India, my quest was aimed for creative expression with love as inspiration.
Meet Sharmila Rathore. There are a few galleries in Udaipur with nice art, but most of them sell more or less copies of the traditional miniature-paintings that you can find anywhere in Rajasthan. Sharmila's 'Art Issue' drew my attention because she makes a fusion between contemporary and traditional art. Next to that, she also has a noticeable style that seems to speak directly from the hart. Her paintings are inspirational, spiritual and what's more: the subject of many of her paintings… is love!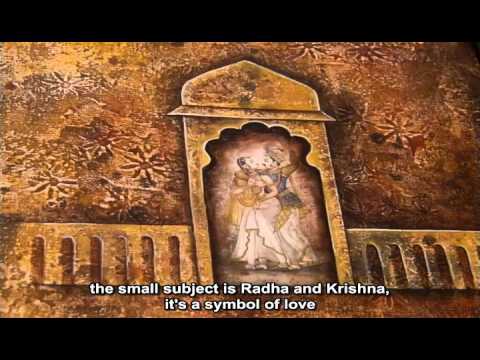 Music by Shariq Parvez, full version here.
It was the first day of Diwali when I took this video, but fortunately the firecracker war outside had reached some kind of temporary truce. Shariq Parvez, the musician in this video, finds that a temporary truce is sometimes difficult to negotiate when you have two young kids roaming the house. 'And I do meditations!'. Fortunately we could make this recording in an unguarded moment at his home in Udaipur. Shariq gives meditation classes with his own made Meditation Guitar, a fusion between the slide guitar and the traditional Indian Sarod. Visit www.meditationguitar.in for more information. Contact the GTP to get in touch with Sharmila!