Sikh upcoming artist in Amritsar
The Punjab always had a mysterious ring to it and when I went there to visit its most mystical attraction in Amritsar I was not disappointed. This is the land predominated by the Sikh, just as mystical to me as any other planet in Star Wars. My first encounter with a particularly large Sikh had been in the hills around Dharamsala. I had just dodged two evil-looking monkeys and must have smiled a little too happy, because for some reason the passing Sikh decided to embrace me in a deadlock, lifting me of the ground like I was a kids' doll and swirled me around until he had me screaming for mercy. 'WELCOME TO INDIAHHHHH!!' He exclaimed and nearly floored me when he affectionately patted me on the back. I said it was nice to meet him and would subsequently dodge any turban in the area for the next week. It turned out the greeting of my new-made friend in Dharamsala had been exceptionally firm and the equally friendly people in Amritsar would limit their sign of affections to a mere handshake.
During my visit, Kps Gill explained to me that he believes all people are the same. Visiting the open-to-everybody golden temple I got the feeling that this welcoming attitude is shared throughout the Punjab. Still, one could say that Kps Gill is different from the people around him. He is successful in his job as a team leader in retail at the biggest 'hypercity' mall in Amritsar, but after practicing his painting-hobby for 10 years, he decided to give 'talent' a shot. And, judging from his paintings he already had made, why not? His first exhibition starts today (25 October 2011) in the S. G. Thakar Singh art gallery in Amritsar!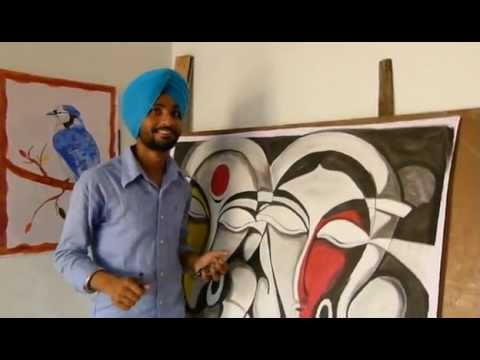 The song played by The Malangi's is a typical Punjabi Jugni. Full version here!
The music is from The Malangi's. A band that combines the traditional lyrics with a more Western tune. They are now still studying software engenering, but with multiple new songs and invitations to start recording a CD, it seems just a matter of time before they brake out of the Punjab in the land of fame and fortune. The recordings I made when I spent an afternoon with them on the country side will follow shortly!
This entry was posted by Elmar Haker on 25 October 2011 at 09:11, and is filed under talentblog. Follow any responses to this post through RSS 2.0. Both comments and pings are currently closed.
Comments are closed.